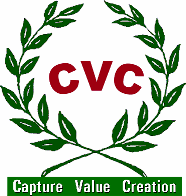 CVC INDIA INFRASTRUCTURE PRIVATE LIMITED
&
CVC INDIA INFRASTRUCTURE PTE LIMITED
BUSINESS MISSION

Capture Value Creation?s ("CVC")

mission is to provide advanced project management consultancy in the fields of Energy, Infrastructure & Biotechnologies with a specific focus on advanced eco-sustainable technologies pertaining to bio-energy, bio-polymers, bio-pharmaceuticals & health foods projects.
OUR PROMOTERS
CVC India Infrastructure Private Limited and sister organization CVC India Infrastructure Pte Ltd (CVC) are both promoted by Ambience Management Services Pvt Ltd., with Interpres Internazionale Srl joining the Promoter Group.
Interpres Internazionale Srl, is an Italian Financial Advisory & Management Consultancy Firm that has business focus in the energy has business focus in the energy industry (Oil & Gas, Biomass, Cogeneration, etc.). The Founder of Interpres has significant domain competences & knowledge of evolving markets in Hydrocarbon Sector, through positions held as Vice President Federprogetti (Federation of Italian Infrastructure, Energy & Industrial Companies) & President of ANISGEA (National Association for Water, Gas, Energy services).

Website: http://interpresinternazionale.it/

Ambience is a specialist company in the Energy sector and was Indian JVC partner of Ansaldo Energia SpA (1994 to 2002), which built Coal, Lignite & Gas fired Power Plants. Ambience played a pioneering role in the Indian Bioenergy sector, promoting the World?s 1st low density crop residues fired Biomass Power Plant, which also delivered the world?s 1st Gold Standard CER?

s, and catalyzing growth of for Advanced Bio-fuels/Biogas Projects in India. Ambience Founder has significant domain competences in Energy & Infrastructure Sectors, having over 3 decades experience in Top Management of Corporates having JV's with EU majors, viz Merlin Gerin, Snamprogetti/Saipen, Technip, Mannesmann Group, Ansaldo, Envitec Biogas Ag, etc.,

Website: http://ambience-management.co.in/

---

PROJECT(S) PORTFOLIO
A.) Advanced Technology BIo-Fuels & Bio-Polymers

BIO-PLASTICS: Eco-friendly, Bio-sustainable, Circular

CVC developed portfolio of Farm Waste based Cellulosic Ethanol Projects (60,000 tons/annum) having Technology Partnership with Beta Renewables, Biochemtex SpA & Chemtex. CVC also developed Biomethane Projects (8 to 32 million cum/year) having Technology Partnership with RKE Renewables BV & their Japanese Shareholders Saraya.
B

.)

Farm

-

Linked

Bio

-

Economy

&

Food Processing

Projects in the States of

Tamil Nadu,

Karnataka

&

Meghalaya, India

C.) 60,000 Tons / Annum PLA (Polylactic Acid) Project in the State of Gujarat, India

HHOW?: The PLA Production Process

FOR? High-Value Markets for PLA Products

THANK YOU!

Please take a moment to visit our webpages, but pardon our dust some of them are currently under renovation!

CVC INDIA INFRASTRUCTURE PRIVATE LIMITED

No.29, Hospital Road, 1st Floor, Maliks Building, Shivajinagar, Bangalore 560 001 Tel : +91-80-22862523, 22862524, Email : admin@cvc-iip.com, krishan@cvc-iip.com, http://www.cvc-iip.com